AI and its Destination Marketing Implications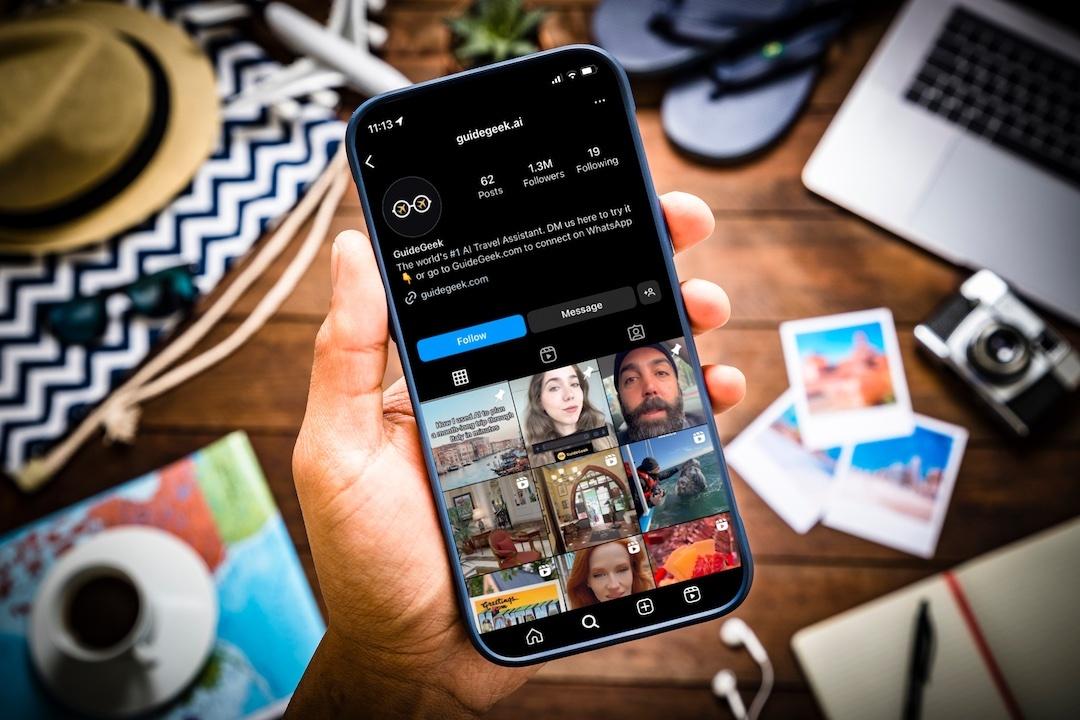 AI and platforms like ChatGPT have become nearly as buzzworthy as "Barbie" and "Oppenheimer." Media coverage of AI has focused on how recent developments are playing out in classrooms, job applications and creative industries, but what does it all mean for the travel industry? How can destinations adapt to changes in travel planning and booking processes associated with AI's takeover?
From Expedia to Booking.com to Kayak, nearly every online travel agent site has adopted artificial intelligence. Apps such as Roam Around and Welcome are also using AI to personalize and accelerate the travel planning process for consumers. Although each respective platform has its nuances (Welcome combines real-time AI with friend and expert video content whereas Expedia's ChatGPT integration stores recommendations in a personalized Trip Planner for easy booking), all are contributing to the changing landscape of travel planning. But how exactly will these changes impact destination marketing organizations' advertising strategy?
To learn more about these developments, Backbone took a look at how one publisher is developing new AI travel tools and sat down with Ross Borden, founder and CEO of Matador Network. Ross and team are at the forefront of AI travel planning with their GuideGeek tool, now available to all travelers and soon can be integrated on destination marketing organization (DMO) websites. We assessed the goals and capabilities of their product to anticipate the implications of AI in the travel space, ultimately revealing how Backbone can tailor media planning and help prepare DMOs for the shakeup from this new technology.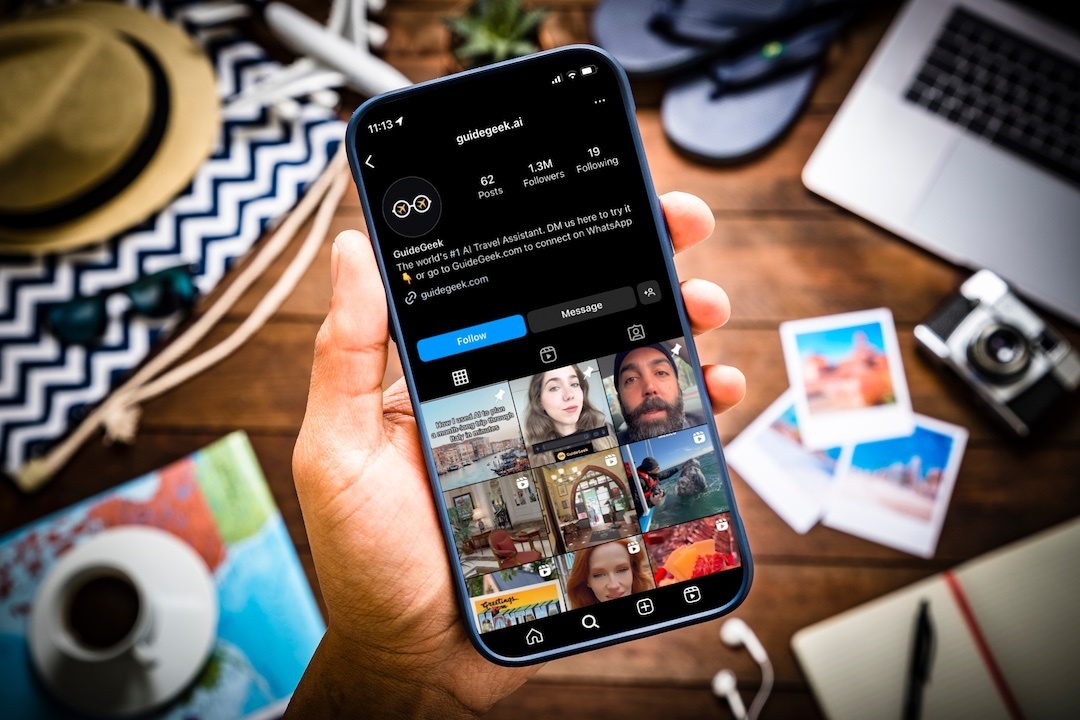 Backbone: What is the evolution and goal of GuideGeek?
Matador: Travel has been living in the dark ages since the 1990s, when OTA's (online travel agencies) launched. We think AI will bring a full tectonic shift in how people plan, book and research travel. GuideGeek uses a combination of open-source AI tools, large language models and real-time data, utilizing Skyscanner for flights, currency, weather, and dinner reservation questions all within the app, streamlining today's travel planning process.
Soon AI will know you based on data (never shared, first-party data), rather than re-explaining who you are to the platform. In the future, GuideGeek will also prioritize Matador content.
Implication for DMOs: Enlist a SEO strategy for optimal AI search engine result performance, particularly focused on informational video content and topical authority content around your destination. Generative search results are currently in beta by Google and may negatively impact brand visibility and site-clicks, due to pushing organic and paid search rankings lower down on the webpage. Therefore, brands should utilize the AI-minded SEO strategy to better ensure their destination appears in generative search results.
Being selective with high-quality PR and paid content partnerships with publishers utilizing their own AI chat platforms (Matador, Expedia, and others) will assist with brands appearing on their AI results, due to content prioritization algorithms.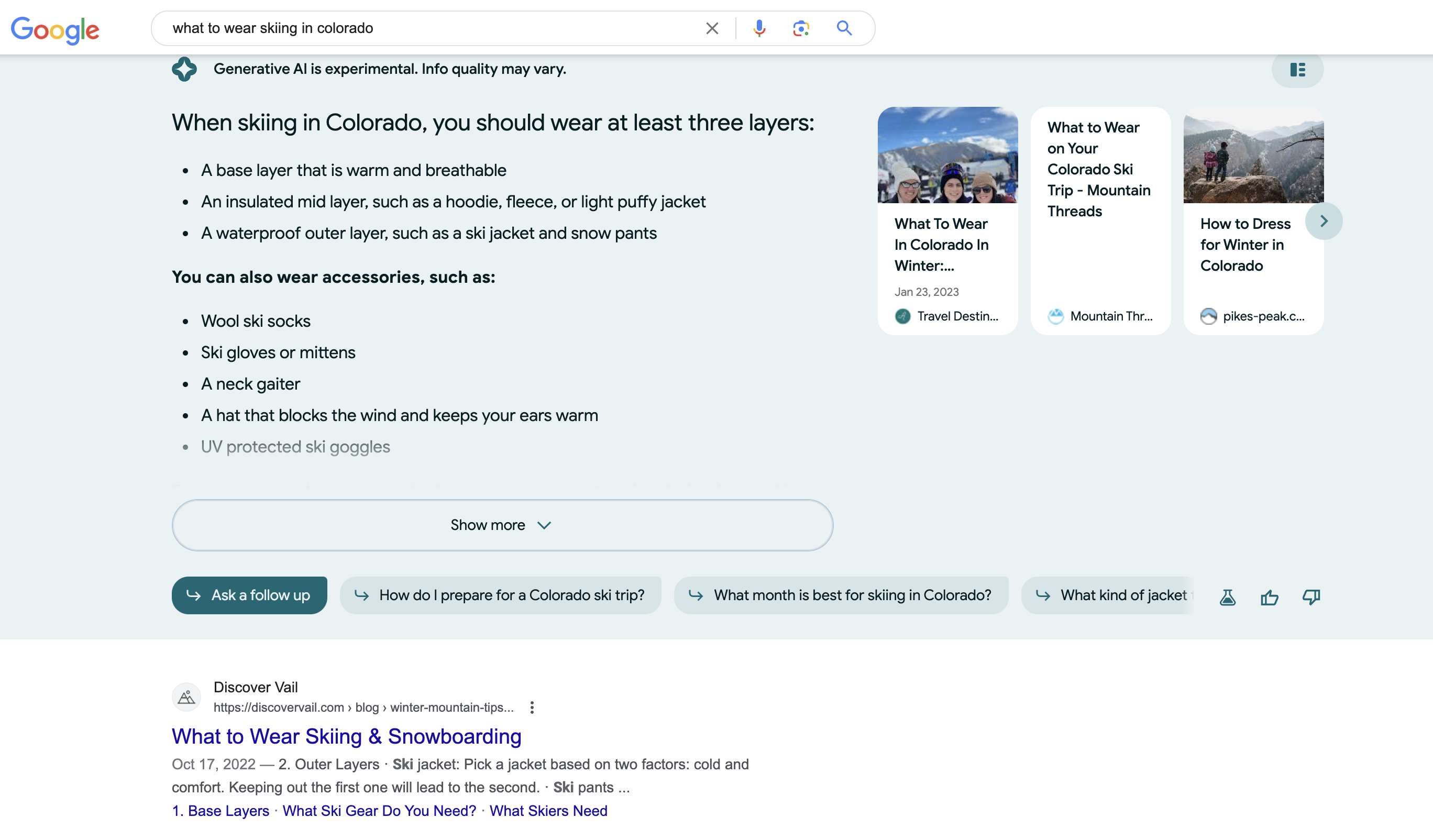 Backbone: How will AI transform DMO and travel sites? Will DMOs have any control over GuideGeek's answers?
Matador: This August, GuideGeek will be integrated on several DMO sites. New features will allow DMOs to have an intimate connection with the user.
DMOs can upsell their destination to increase length of stay (LOS). I.e., someone who loves nature experiences is planning a road trip to Colorado, so AI suggests not needing three nights in a large city and instead exchanging for an additional night in the DMO's destination.
The power of GuideGeek is also to spread awareness of smaller, off-the-beaten-path places, especially if you tell it to (unlike social media or top 10 lists). This effectively moves 10,000 new users a month from high-traffic, tourist swarmed areas.
Implication for DMOs: AI can be part of a holistic sustainable tourism plan. The wide breadth of data assists with recommending lesser-known trails or attractions.  DMOs can also use site AI integrations as a communicative tool to suggest increasing LOS.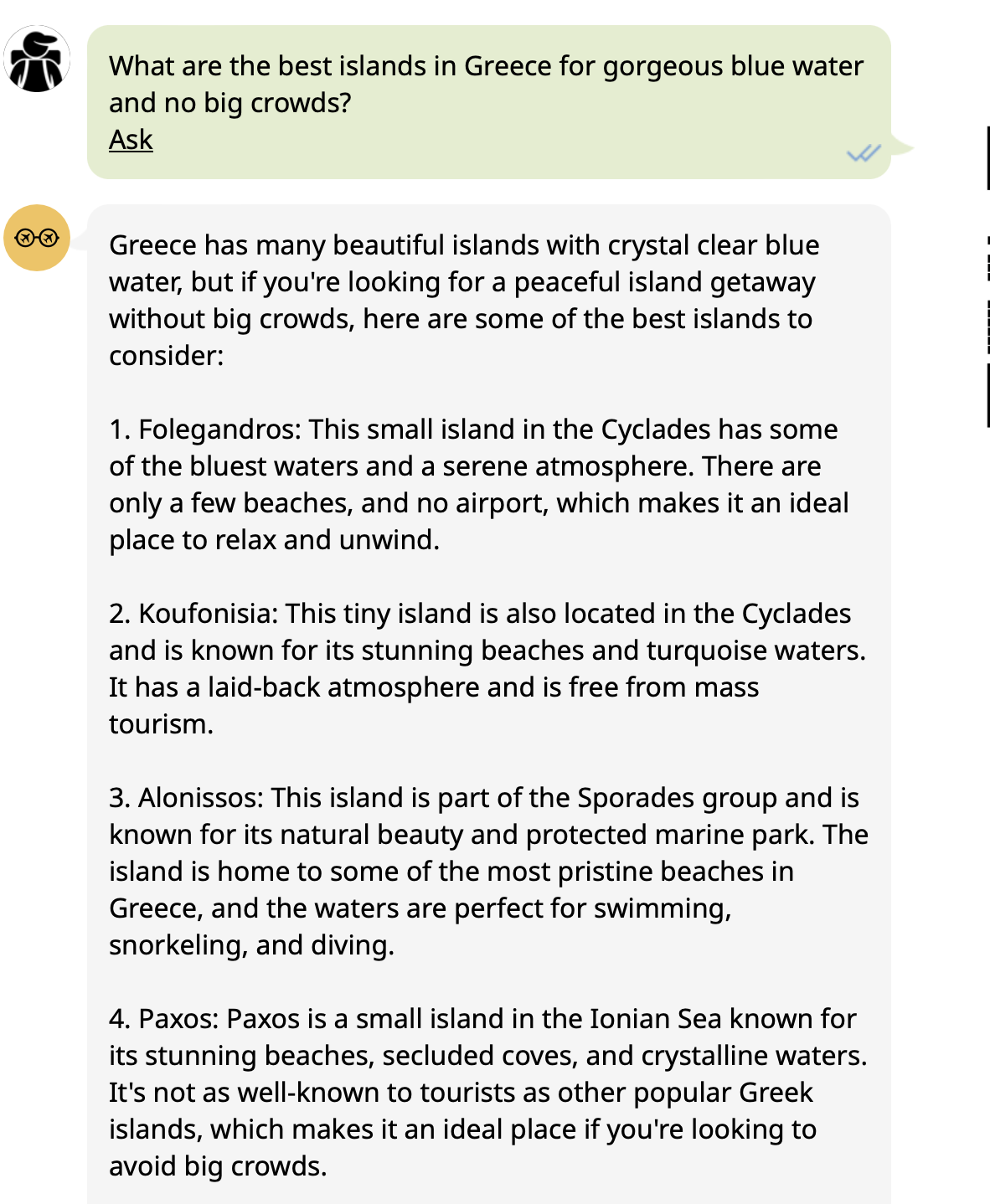 Backbone: Will advertising play a role in your platform?
Matador: No. We want to keep GuideGeek free for every traveler and not share data or clutter the platform with boosted ads or sponsored links. Conversely, our business model is to get DMOs setup with integration.
Implication for DMOs: Borden, expressed that Matador considered allowing advertising in a similar format to paid search. Marketers should remain alert for paid opportunities across AI, as platforms continue to develop.
Backbone: What are the top pros and cons of AI for both clients and users?
Matador: Pros: One can plan a super complex trip in a matter of minutes instead of hours or days. We believe going to Expedia and typing in travel dates will look old school in a year or two. Similarly, going to Matador (or other content sites) and looking for "things to do" will also look old school. There will be a dramatic shift in consumer behavior, bigger and faster than we realize. 
Cons: AI is imperfect.  Although we believe it's a temporary problem, AI will periodically make up something or produce incorrect information to give an answer, such as recommending a destination that closed three months ago. In the future, AI will be connected to the open web and we're building a software to check on recommendations AI has given a user so a corrective message can be sent if needed.
DMOs will also notice that websites are going to diminish in importance big time. We, as a publisher, think about indexing a website to ensure we will have the answers to the questions people are asking AI.  For example, how can we (Matador) compete with a LLM that utilizes the entire internet to seek answers?  Similar tribulations will prevail for DMOs.
Implication for DMOs: Destination websites can remain relevant by ensuring they have niche and varied content. For example, blog and destination guide content should be repurposed in video format.  Traditional webpage rankings based on informational text content are expected to be pushed down by AI results, whereas topical authority, backlinks, and video content will help combat the zero-click impact.  Topical authority can be created by employing a pillar and content cluster strategy. 
As implied by Borden, Matador may not have the content one needs to plan a niche trip (for example, trip catered to a special-needs visitor), however, this provides an opportunity for DMO sites to share their respective expertise and, thus, breakthrough the algorithms that are pushing publisher content to appear first.
It will also be crucial that DMOs have a multi-touchpoint media plan, as sources and means of trip planning will be broader than ever. 
For additional insights on how to better prepare for AI marketing implications please contact Backbone's paid media and SEO teams.