Digital Media Costs Continue to Rise in 2022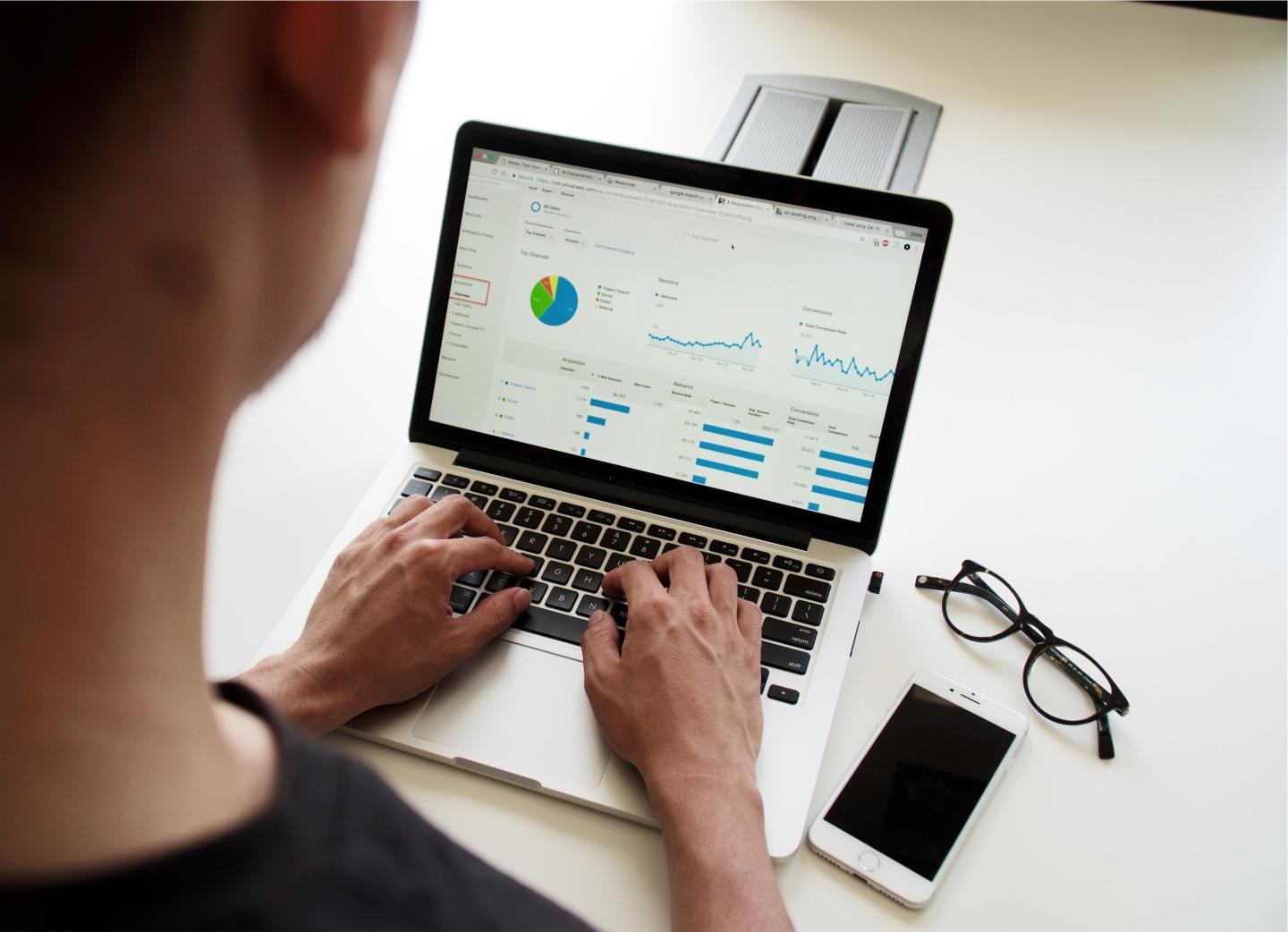 Digital ad spending has surged since the start of the pandemic and, despite fears of an impending recession,1 is expected to grow throughout the remainder of 2022. With the correlated increased demand and stagnant inventory on ad platforms, digital media costs have gradually risen.
As more brands invest their media spend in ad platforms such as Meta, large tech companies like Apple, Google and Amazon are prioritizing consumer privacy and tracking transparency with the introduction of iOS 14.5 and removing third-party cookies. The deprecation of cookies allows consumers to opt out of app tracking and mask IP addresses to eliminate IP address-based targeting.
The convergence of these factors over the past few years has made it more difficult to target quality consumers on platforms such as Meta and Google. The heightened hurdles and resulting cost increases are forcing advertisers to question the long-term value of digital advertising, specifically within walled garden platforms.
Paid Social
Brands are looking to diversify their ad dollars away from Meta platforms due to increased costs, declining user numbers2 and increasing consumer privacy concerns.
Prospecting
Analyzing a cross section of Backbone client data, prospecting CPMs have seen a gradual increase throughout Q1 and heading into Q2, with a dip through the end of June. CPCs are continuing to rise at a steeper rate, increasing 33% compared to last year. With Meta's evolving targeting capabilities due to iOS14.5's privacy updates, prospecting has become less granular, making it harder to reach qualified users who will click and engage with a brand's ad. The result: CPCs are up year over year while CPMs are flattening.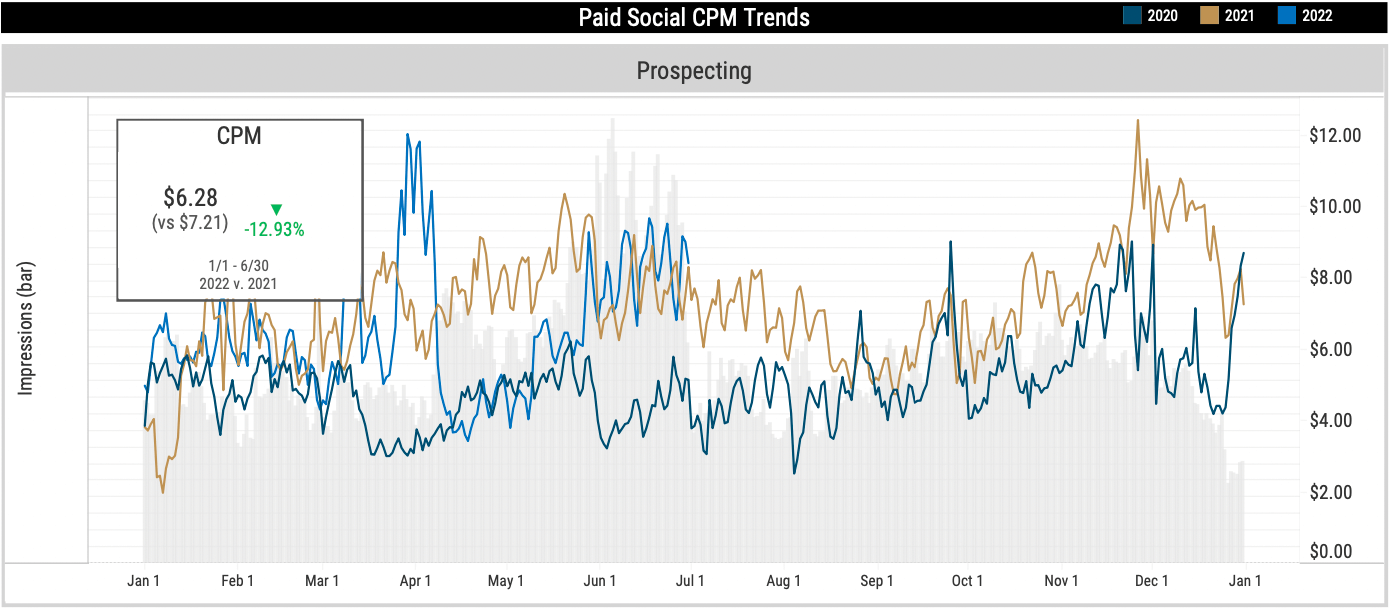 Remarketing
Paid social remarketing campaigns across Backbone e-commerce clients have seen similar trends, although both CPMs and CPCs have grown by 25% and 72%, respectively. The impacts of iOS14.5 have caused retargeting audiences to shrink as people opt out of tracking, resulting in advertisers paying more for users to engage with an ad.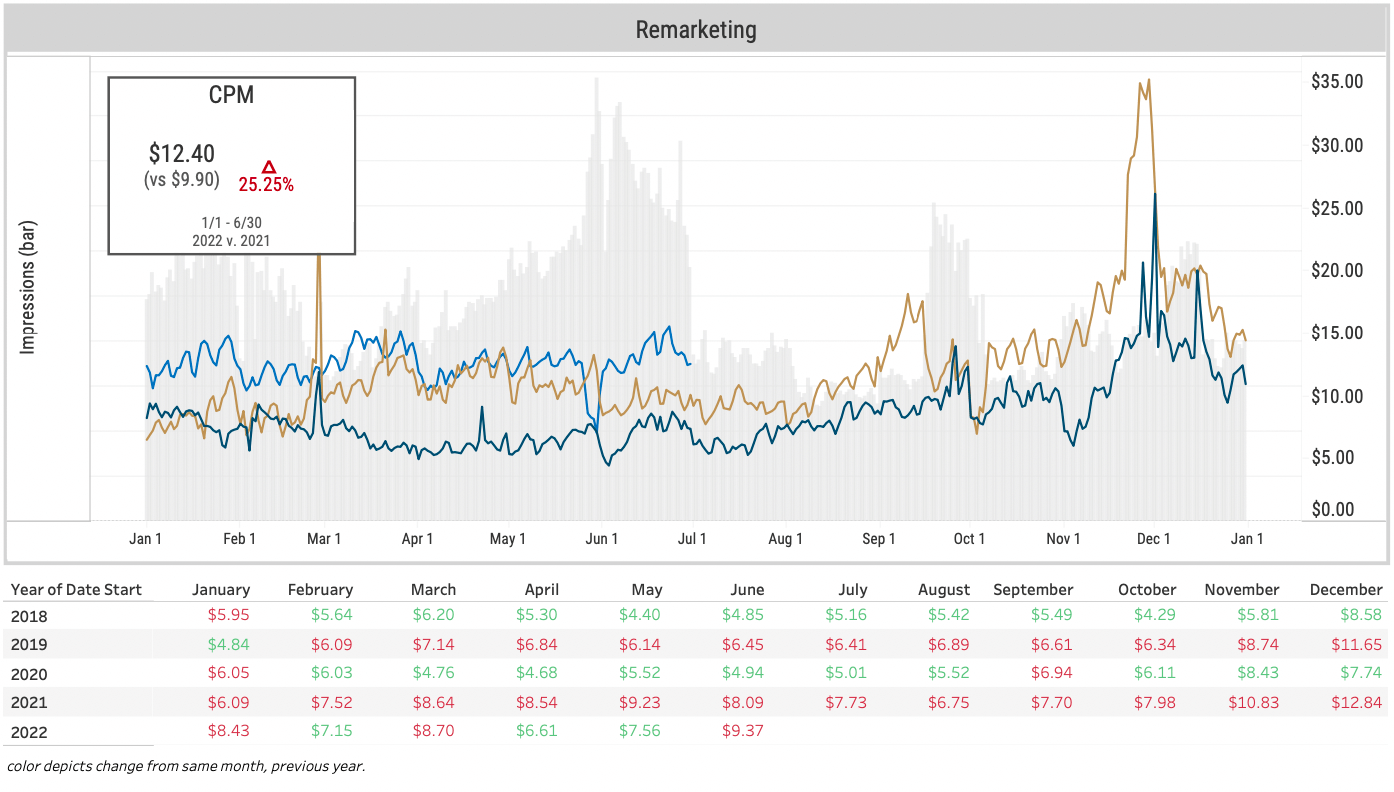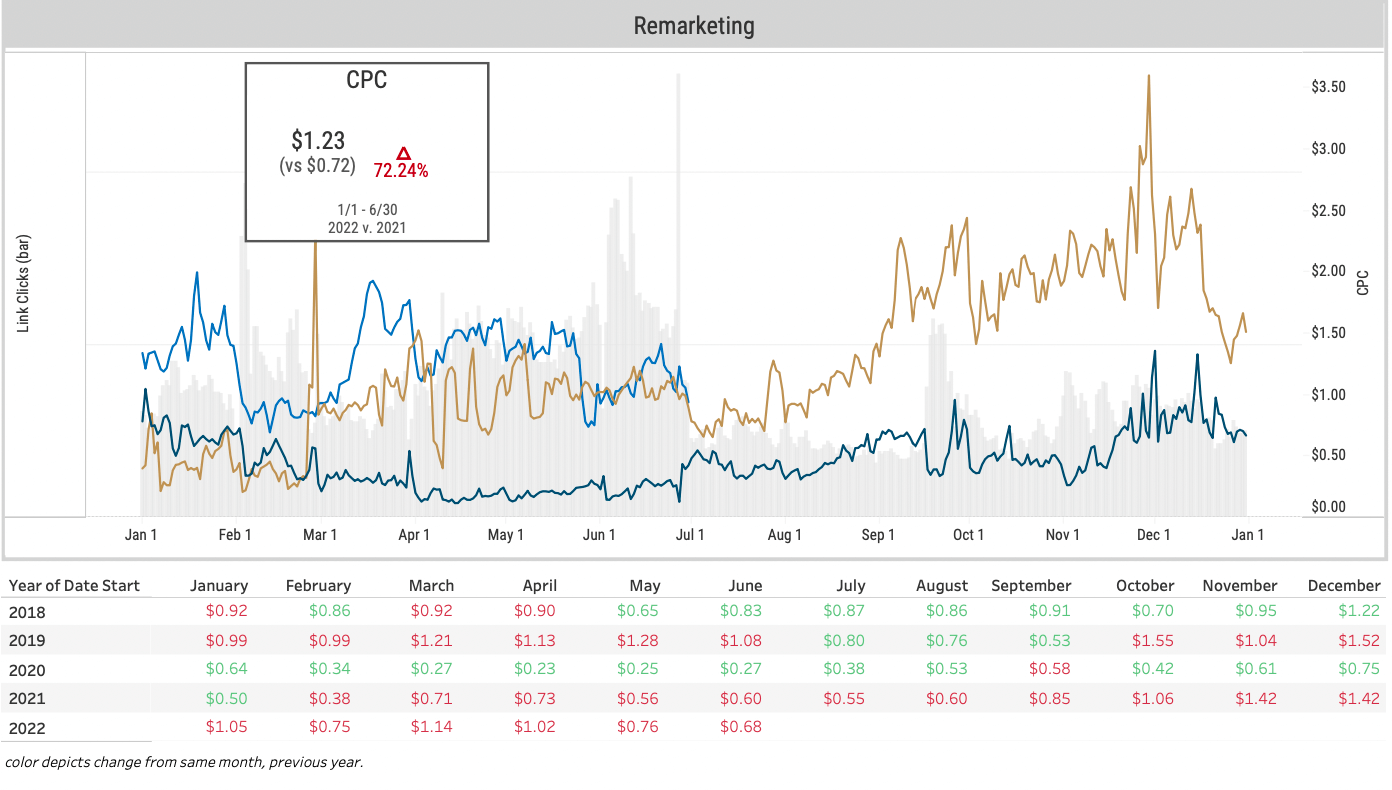 Solutions
To combat these costs, tactics including relying on updated first-party data and following Facebook's suggested best practices (consolidation within campaigns, utilizing motion assets, 6+ placements, etc.) are becoming more pertinent within both prospecting and remarketing campaigns.
Paid Search
Similar to paid social, demand for paid search properties has increased coming out of the pandemic, with U.S. search advertising projected to grow 12.21% from 2021 to 2022.3 To reach aggressive forecast goals, e-commerce advertisers are pushing dollars into Google search to increase impression share as competition to convert online consumers becomes increasingly difficult.
Non-branded Search
Consumer mindsets altered during the height of the pandemic, shifting from being brand-oriented to searching for more general and category-specific products. This has resulted in a large opportunity within non-branded search, although we are seeing costs increase (9% YoY) as a result of increased demand.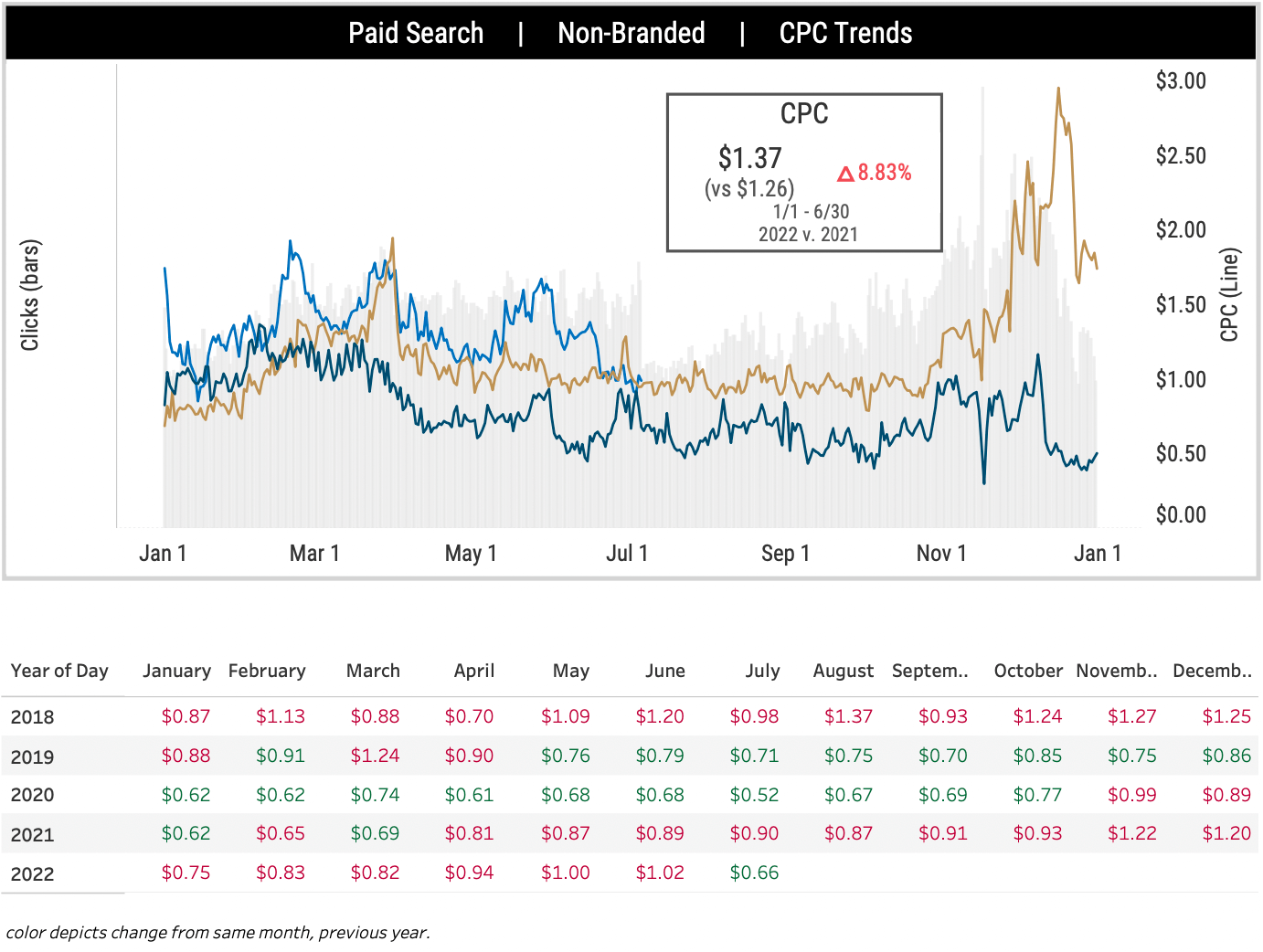 Branded Search
Branded search CPCs have increased slightly YoY, spiking toward the end of Q2 as brands compete for impression share during large summer sale periods (Memorial Day, Independence Day, etc.) along with Pride Month in June. Although costs are starting to decline heading into Q3, we expect CPCs to continue to rise as brands start ramping up earlier for the holidays.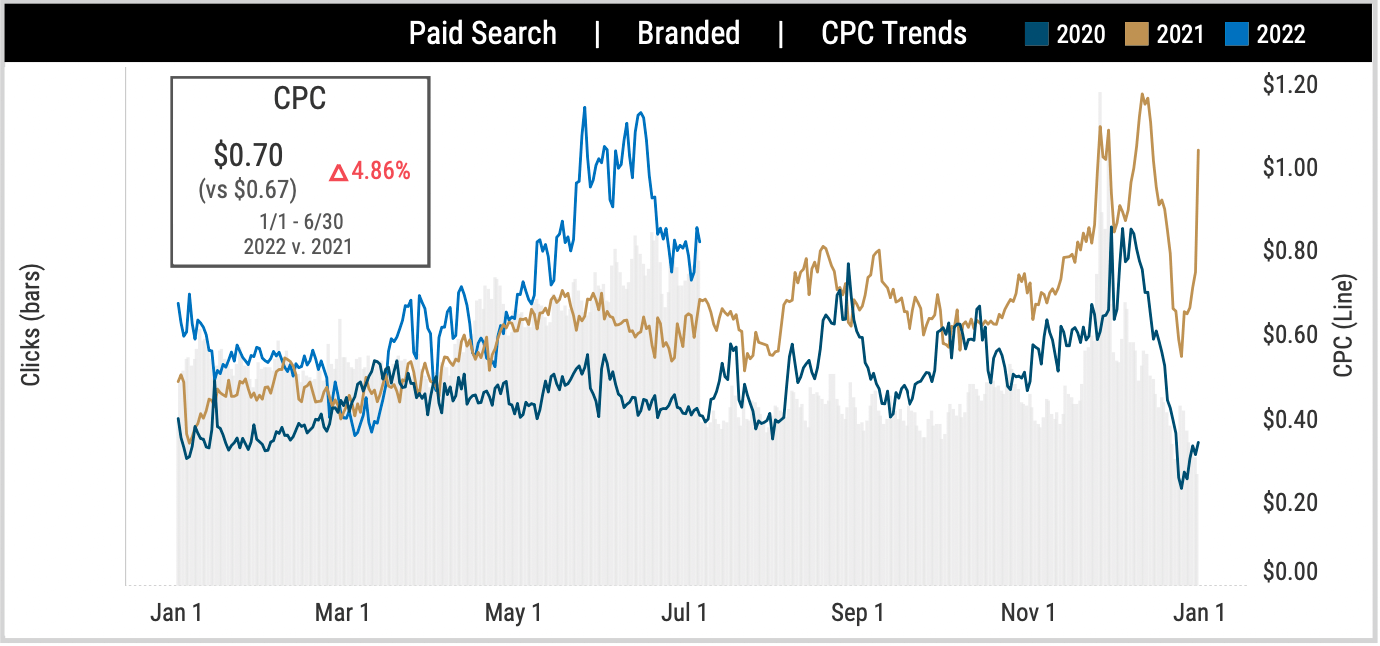 Strategic Recommendations
To account for these rising costs, Backbone's media team continues to develop strategies to counter-balance the rising platform costs.
Facebook Best Practices
Meta continues to encourage consolidation across the campaign, ad set and ad level to allow their algorithm more room to optimize along with suggesting 6+ ad placements, utilizing motion assets and less frequent campaign edits to stay out of the learning phase. By following these suggestions, we have seen more cost-efficient CPMs and CPCs within the platform.
Prospecting Objectives
Pair a conversion-oriented prospecting campaign with a traffic-driving campaign to balance costs within awareness tactics.
Diversifying Media Spends
Test alternative social platforms (e.g., Pinterest, Reddit, TikTok, Snapchat) and brand media tactics (e.g., audio, CTV) that are quickly gaining market share with competitive costs to Meta, specifically when looking to introduce new consumers to a brand.
Google Updates
To drive the most efficient results, implement recommended platform updates such as Enhanced Conversions and Performance Max. As strategies shift with these updates, we have seen Performance Max drive more traffic to the site at a similar cost to what we've historically seen with Smart Shopping.
First-Party Data
Leverage up-to-date first-party data across paid social and paid search efforts to more accurately target past purchasers as pixel-oriented data has become less reliable as a result of iOS14.5.
The paid media landscape is facing multiple challenges, including increased demand with stagnant inventory, privacy changes, and a potential recession, which have all contributed to increased digital media costs. By remaining nimble with media strategies, brands will be able to capitalize on opportunities within digital media channels to capture the evolving consumer demand moving into Q3 and Q4.
This report on 2021 media trends from Backbone's media team is part of a series of updates that provide data-driven insights and experience-based anecdotes. If you have feedback or questions, please send us a note at info@backbone.media. 
Sources
1: www.emarketer.com/content/ad-spending-will-remain-strong-despite-looming-recession
2: www.emarketer.com/content/facebook-set-lose-users-us-first-time
3: www.statista.com/outlook/dmo/digital-advertising/search-advertising/united-states