Make the World Like Camp with the Latest Chaco Collaboration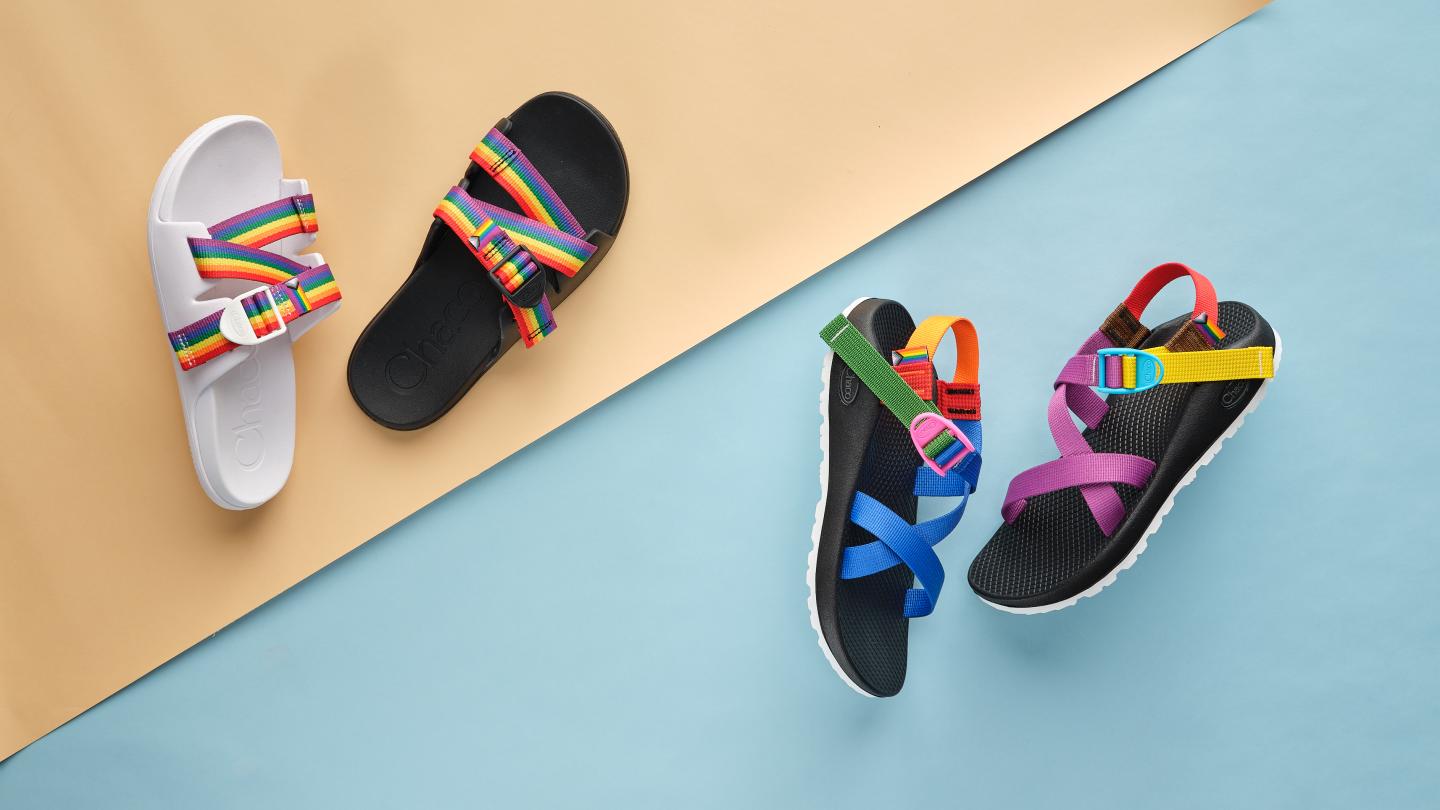 ROCKFORD, Mich. (March 7th, 2023) – Chaco Footwear, the iconic outdoor lifestyle brand, announced today its 2023 Brave Trails Collection, a color-blocked, Pride-inspired line of sandals. For the third year in a row, this collection supports Brave Trails, a non-profit that provides a safe and inclusive space, along with leadership programming for LGBTQ+ youth, and this year directly supports their Family Camp.
Brave Trails Family Camp is a weekend-long adventure filled with exciting activities, LGBTQ+ pride, and all the fun of a quintessential camp experience while celebrating what makes their families unique. Brave Trails provides two weekends for LGBTQ+ families, one dedicated to LGBTQ+ parents/caregivers and their children and one for LGBTQ+ youth and their families/caregivers.
"Brave Trails Family Camp is the perfect place for families to come together, unplug, and make lifelong memories," said Jake Young, Communications Director, Brave Trails. "We love watching families experience the magic of camp and bond with each other."
The collection is crafted in Rockford, MI, and includes bold, colorful Z/Sandals (MSRP: $110), Chillos Slides (MSRP $60), and Kids Ecotread (MSRP: $70) that feature the Progress Pride flag. The line is designed to help spread awareness and support for the LGBTQ+ community while providing comfortable and durable footwear for outdoor enthusiasts. 10% of proceeds from each sale of the Brave Trails Collection will go to supporting Brave Trails Family Camp.
"For many, summer camp is a place where they can be themselves and feel seen and accepted. Chaco believes in making the world more like camp, which is why we have loved partnering with Brave Trails over the years," said Lauren Poole, Sr. Marketing Director, Chaco. "Plus, summer camp is often where people are introduced to Chaco for the first time."
Learn more about the 2023 Brave Trails Collection at chacos.com/camp-brave-trails.
About Chaco:
Born on the river in 1989, Chaco, a division of Wolverine World Wide, Inc. (NYSE: WWW), builds premium footwear for the outdoor-minded. The brand's iconic Z/sandals are repairable at Rechaco and more than 20,000 sandals a year are kept out of landfills every year. Plus, as a result of the brand's proprietary LUVSEAT™ foot bed, the American Podiatric Medical Association (APMA) has awarded the Seal of Acceptance to all Chaco footwear styles. The APMA Seal is intended to raise awareness by identifying products of exceptional quality that are manufactured with comfort, health, and safety in mind. Simply put, Chaco is fit for adventure. Please visit us at www.chacos.com, Facebook: Chacos, Instagram: ChacoFootwear, Twitter: Chacousa.
About Brave Trails:
Brave Trails is a national non-profit organization dedicated to LGBTQ+ youth leadership. We offer accredited summer camps, backpacking trips, family camps, mental health services, meet-up groups, and year-round leadership programming. All of our programs focus on helping LGBTQ+ youth find what they need most to thrive: their people, their place, and their passion. Nothing makes us more proud than seeing our youth take the skills they gain in our programs and use them to create meaningful change in their communities.
Media Contact:
Delaney Wood, Backbone Media
Delaney.wood@backbone.media