Trends Across Active Lifestyle Media and Advertising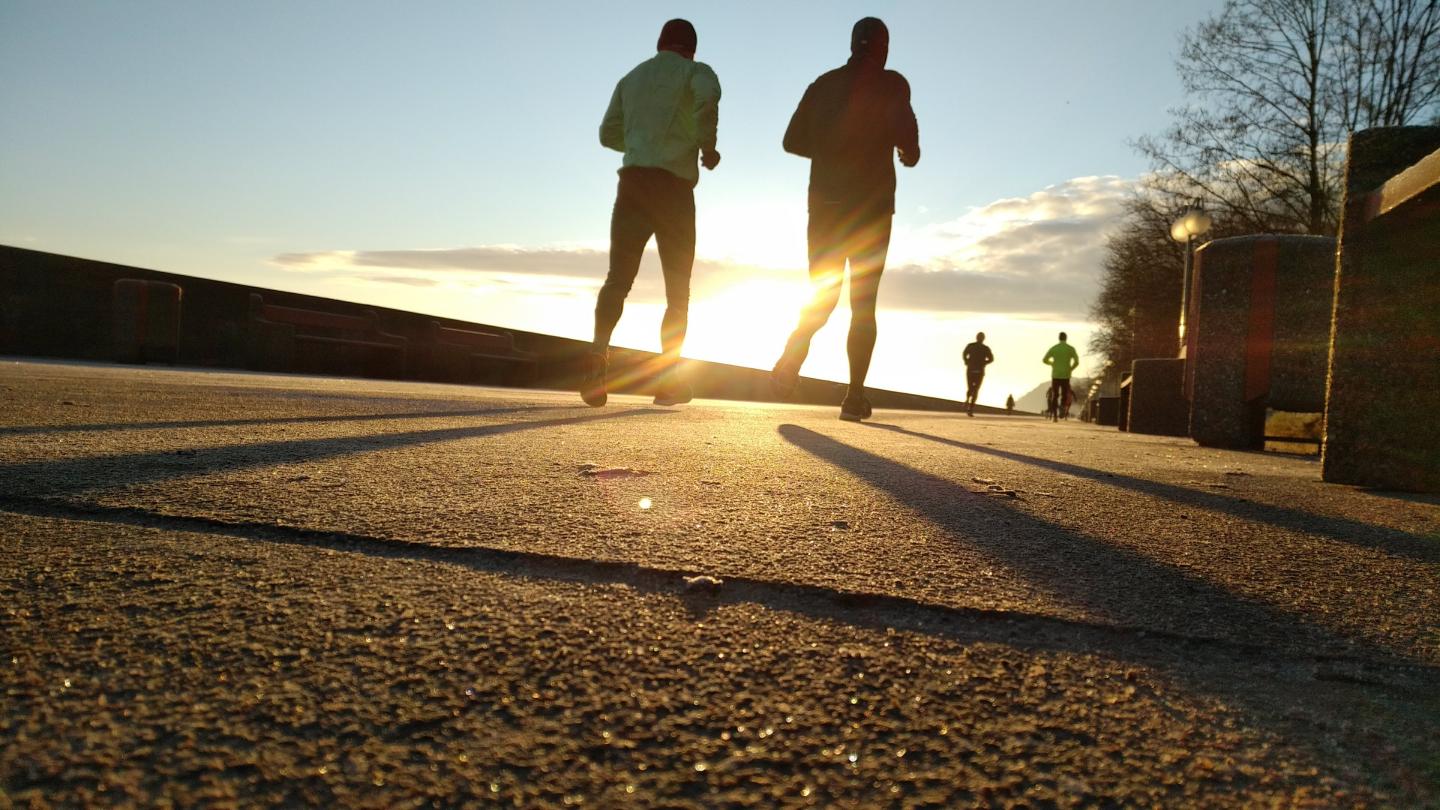 These are unprecedented times. As an agency that partners with over 60 leading lifestyle brands, we've had a front row seat to see the impacts of the global pandemic on supply chains, travel and tourism, retail stores, e-commerce, media consumption and more. Almost overnight, consumer habits and behaviors have changed dramatically as unemployment surges and millions are working from home.
While the situation continues to change daily, some of the dust has begun to settle and we've taken a minute to compile some of the data, research and observations from our team working with brands and media every day.
This will be the first in a series of updates that provides data-driven insights and experience-based anecdotes that will hopefully help marketers and brands weather this storm. If you have feedback or questions, please send us a note at info@backbonemedia.net.
January 1 – April 12, 2020: Earned Media
Almost all active lifestyle media outlets are reporting a significant spike in web traffic. We're finding most of the journalists we work with are writing stories that provide reader-service for people stuck at home. Indoor workout and wellness routines, cooking, DIY and how-to instructional content is performing well. Many brands are successfully leveraging their athletes and ambassadors to share workout routines or teach a new skill.
There is still a steady appetite for product stories, especially if the product can be used at home and assuming it can be purchased online. We've successfully hosted virtual desksides with key media—sending product to their homes and then setting up a video conference to run through the product in real-time. We're also planning virtual workouts with media, often featuring a brand's sponsored athletes, to launch and showcase new products.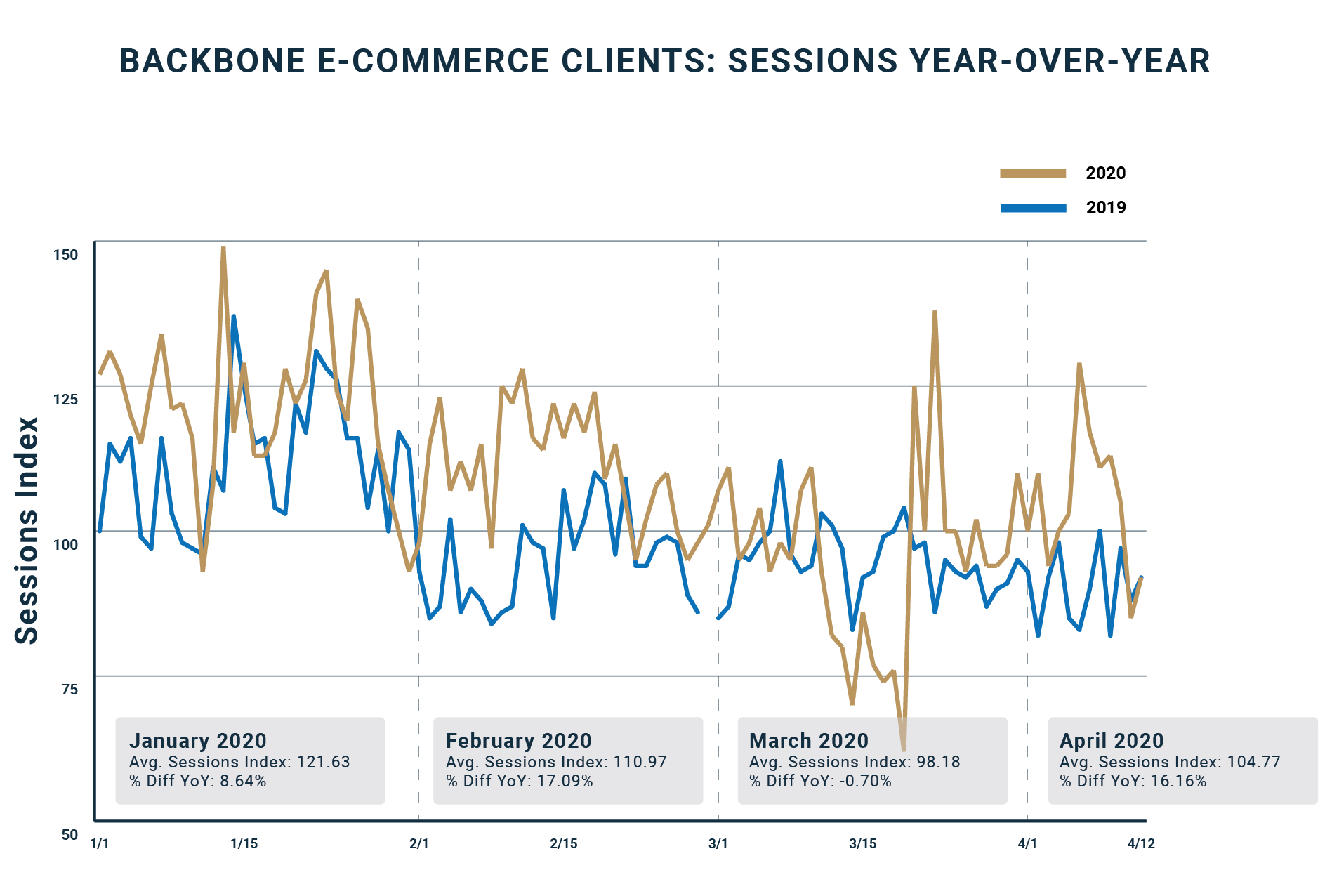 Content that provides a welcome distraction from the endless negative news cycle has also been well received. Some outlets are recycling branded content that provides inspiration and a respite. Many outlets are featuring stories that help readers think about and plan an adventure once restrictions are lifted.
Unfortunately, many of the major active lifestyle media outlets have also had to make staffing cuts. We're tracking furloughs, layoffs and reduced hours at dozens of outlets. Freelancers are reporting that few outlets are buying stories right now.
Media outlets want to hear how brands are helping during the COVID-19 crisis. Many of our brands have shifted production to personal protective equipment. We've successfully placed stories about these brands in a broad range of regional, national, endemic and non-endemic outlets. These brands are building consumer affinity that will extend well past the pandemic.
January 1 – April 12, 2020: Paid Media
Consumers' demand for quality content is not only impacting the editorial landscape, but advertisers are also shifting their strategies across platforms, from leveraging direct publisher relationships to redistributing spend across the marketing funnel.
Publishers are seeing traffic volume increases across the board, so utilizing partner- or brand-produced content, while not helping with sessions to the site, continues to be a good way to engage with consumers and keep brands top of mind.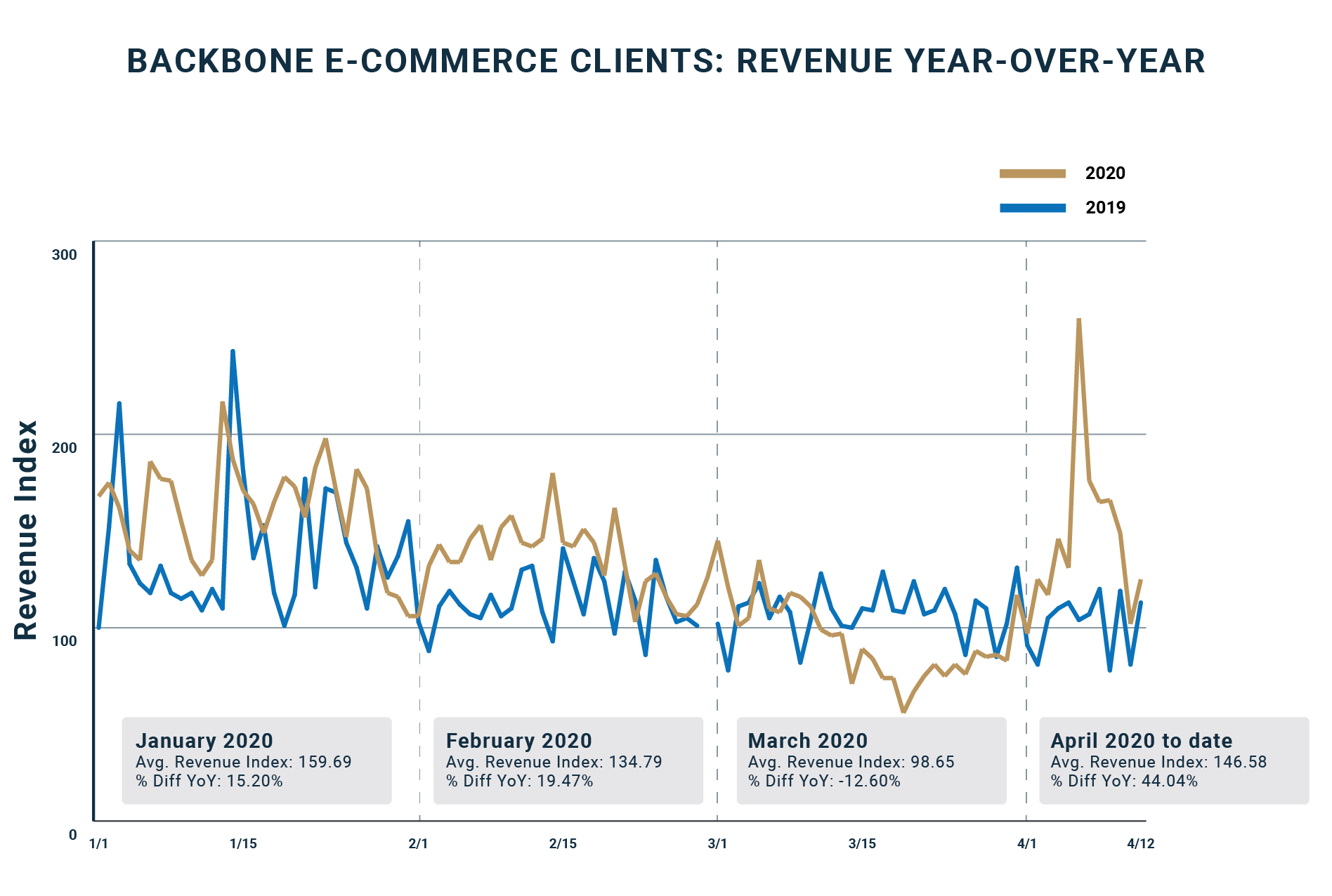 There is pressure on e-commerce to fill the brick-and-mortar revenue void as much as possible, but most smart brands are shifting away from purchase-based content and more toward values- and mission-based messaging. In most cases, efforts are shifting to an upper-funnel focus on strengthening consumer relationships. Where possible, we recommend focusing on traffic drivers to maintain positive session and revenue trends.
Community building, of course, is oriented toward long-tail benefits and will not show its value in the short term, but sale messaging has proven successful at driving conversion and direct-to-consumer sell-through. Although March revenue among Backbone's digital media clients reported almost 13% below March 2019, sessions, revenue and conversion rates are all trending well above April 2019 so far in April 2020. This positive change in trajectory is attributed to creative brand promotions and for-cause campaigns that have both inspired a spike in sessions and, ultimately, conversions. Through this, we are seeing signals that the overall landscape is improving week over week and consumer behavior is settling into a potential "new normal."
Social platforms like Facebook and Instagram are seeing a decrease in CPMs when it comes to lower-funnel tactics. However, upper-funnel CPMs are relatively steady throughout 2020 to-date, pre- and post-COVID-19 outbreak.
E-commerce has been heavily impacted by the changes in supply chain and distribution since the COVID-19 outbreak. Amazon has deprioritized the shipping and delivery of non-essential goods. This, coupled with brick and mortar retail closures, presents an opportunity for brands' e-commerce sites to win in this environment. We are also seeing affiliate programs do well based on the uptick in publisher traffic. In other words, we are projecting, based on the current April trends, that site traffic and site-direct purchases will continue to grow in the near future.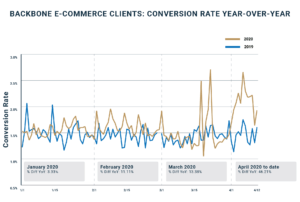 With the pivot in consumer behavior, we are also seeing that branded terms are more competitive than non-branded terms within paid search. Branded search CPCs have increased significantly while non-branded Search CPCs have decreased, resulting in an overall increase in paid search CPCs. Retailers have started bidding on branded terms more aggressively, likely due to the fact that retail stores are closed, and brands and retailers are leaning on paid search to close the gap through e-commerce.
Unsurprisingly, big-screen consumption has increased. Consumers are tuning in to traditional broadcast and cable TV in addition to streaming services like Netflix, Amazon Prime, Hulu and Disney+. Platforms like Pinterest and YouTube have also seen an increase in search volume in categories such as health/fitness, DIY, beauty and cooking inspiration. The common element among these channels is that they are discovery platforms, tailor-made for prospecting and building a sense of community by providing content, entertainment and escapism rather than sales messaging.